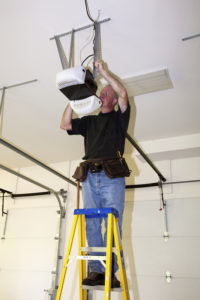 As your new garage door is exposed to the elements, some care and attention is required to maintain its appearance.  It is recommended that the outside of you sectional or roller garage door should be cleaned, (recommended once a month using water and a soft car brush or sponge) taking care to also clean the area above the lintel and top of the roll on roller doors, particularly in coastal environments.
In addition, all moving parts, that is springs hinges and rollers for doors should be sprayed with silicon every six months.  At this time all tracks should be cleared free of dust and any residue build-up and also sprayed with silicon.
Coating your garage door with the appropriate wax will assist the longevity and appearance of the materials. For timber garage doors, we recommend periodic staining or oiling to preserve its natural finish.
IMPORTANT – DANGER
DO NOT ATTEMPT TO ADJUST OR TENSION THE SPRINGS AS THIS CAN CAUSE SERIOUS INJURY.
If you are not sure contact us for advice or a service call:
Shaun 0272 513506 or Tony 0274 380916